Time started: 18.23
De BBC zenders zijn mijn favoriete zenders en de BBC staat onder anderen bekend als maker van de beste historische series (op 1 serie na werden onderstaande series allemaal gemaakt door de BBC. Alleen Mr Selfridge is van de hand van ITV, de producent die ook Downton Abbey maakte). Op het moment kijk ik deze series: Call the Midwife, The Paradise, Mr Selfridge, de docu serie Turn Back Time; The Family en de mini serie The Secret of Crickley Hall.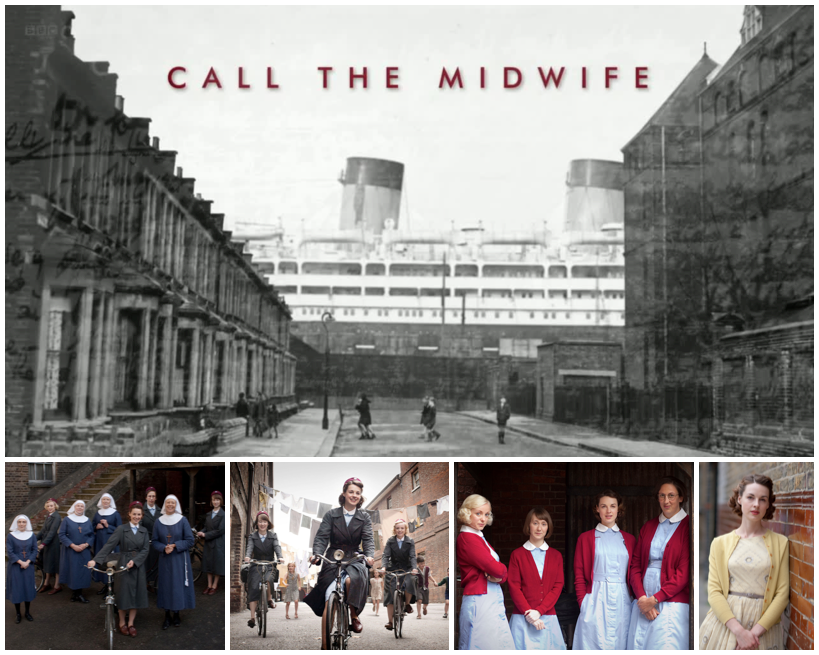 Call the Midwife speelt zich af in de jaren '50 in een arbeiderswijk in Londen. De series is gebaseerd op de memoires van vroedvrouw en zuster Jennifer Worth. De serie begint wanneer Jenny Lee (de meisjesnaam van Worth) aankomt bij Nonnatus House, een nonnenklooster dat tevens dient als klein ziekenhuis en een praktijk met vroedvrouwen. De kijkcijfers van de serie overstegen in het eerste seizoen de kijkcijfers van Downton Abbey, de laatste aflevering van het tweede seizoen is recentelijk uitgezonden en het derde seizoen staat al gepland voor 2014. Naast de bescheiden verhaallijnen van Jenny en haar collega's (bestaande uit jonge vroedvrouwen en nonnen) worden elke aflevering ook enkele afgeronde verhalen verteld over geboortes en patiënten.
English: 'Call the Midwife' is a series based on the memoirs of Jennifer Worth. Jenny Lee (Worth's
maiden name) starts working as a mid-wife in the '50s in a working class neighborhood in London. Besides the small story lines of Jenny and her
colleagues (consisting of nuns and other young midwives), every episode also features rounded up stories of births and patients.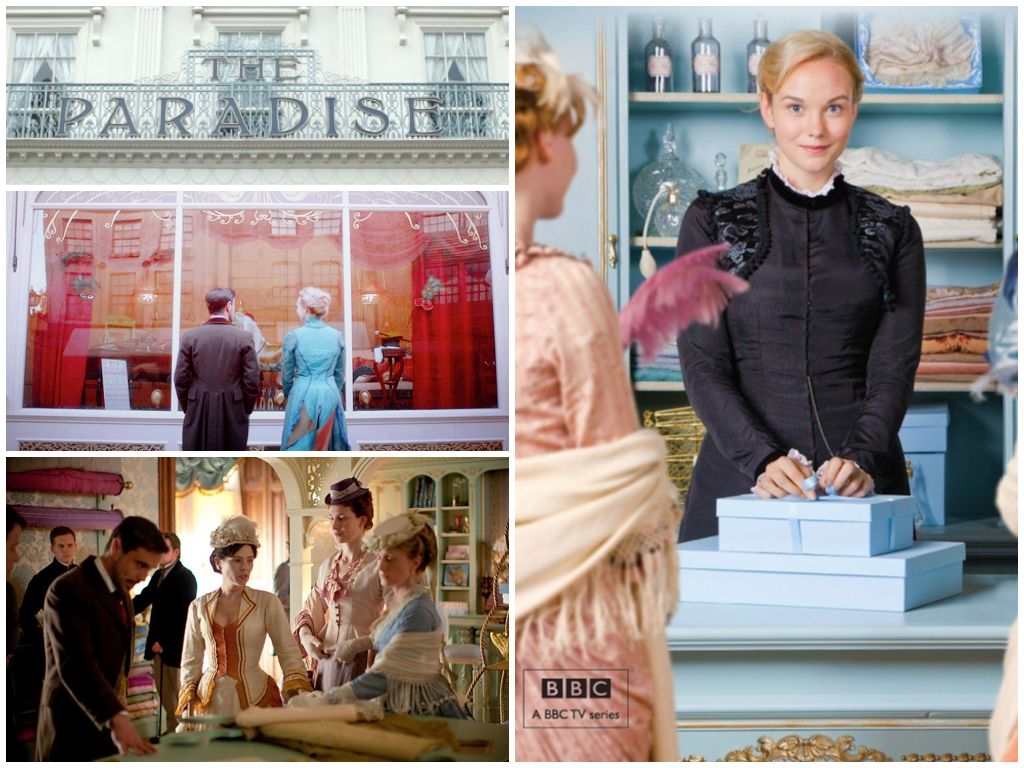 Zowel
The Paradise
als
Mr Selfridge
spelen zich af rondom een warenhuis in Engeland aan het begin van de 20ste eeuw. Beide series zijn alleen al het bekijken waard door de mooie vormgeving.
Hier
kun je een artikel lezen over het creëren van de set van
The Paradise
.
The Paradise is gebaseerd op het boek Au Bonheur de Dames van Emile Zola. John Moray is de eigenaar van het eerste warenhuis in Noord Engeland, The Paradise. Zijn vrouw is overleden maar de omstandigheden rondom haar dood zijn gehuld in mysterie. Moray's grootste investeerder is Lord Glendenning, wiens dochter vastberaden is om met Moray te trouwen. Denise Lovett is een meisje uit een dorp wiens oom een winkel heeft in de straat waar The Paradise is gevestigd. Hij wordt langzaam weggeconcurreerd door het nieuwe warenhuis en hoewel hij het heeft beloofd is hij momenteel niet in staat om Denise in dienst te nemen. Daarop solliciteert Denise bij The Paradise en al snel blijkt dat zij een groot talent heeft voor verkoop. Haar meerdere, Miss Audrey, is echter niet gewend aan zoveel inzicht en durf. Samen met de jaloerse Clara, net als Denise werkzaam bij dameskleding, doet Miss Audrey een verwoede poging om Denise tegen te werken.
English: 'The Paradise' is based on a novel by Emile Zola. John Moray is the owner of The Paradise, the first departmentstore in the north of England. His wife died but nobody is allowed to talk about it. Moray's financier is Lord Glendenning, whose daughter has set her mind on marrying Moray. Denise Lovett has come to the city to work for her uncle who is a dress maker with his shop in the street where The Paradise just opened. Slowly but steadily he is being forced out of bussiness by the new departmentstore. Although he promised to take Denise on he isn't able to do that now and Denise decides to apply for a job as shopgirl at The Paradise. Very soon it becomes clear that Denise has a great talent for sales. Miss Audrey, the head of her department together with her jealous co-worker, Clara, try everything to make Denise fail at her job.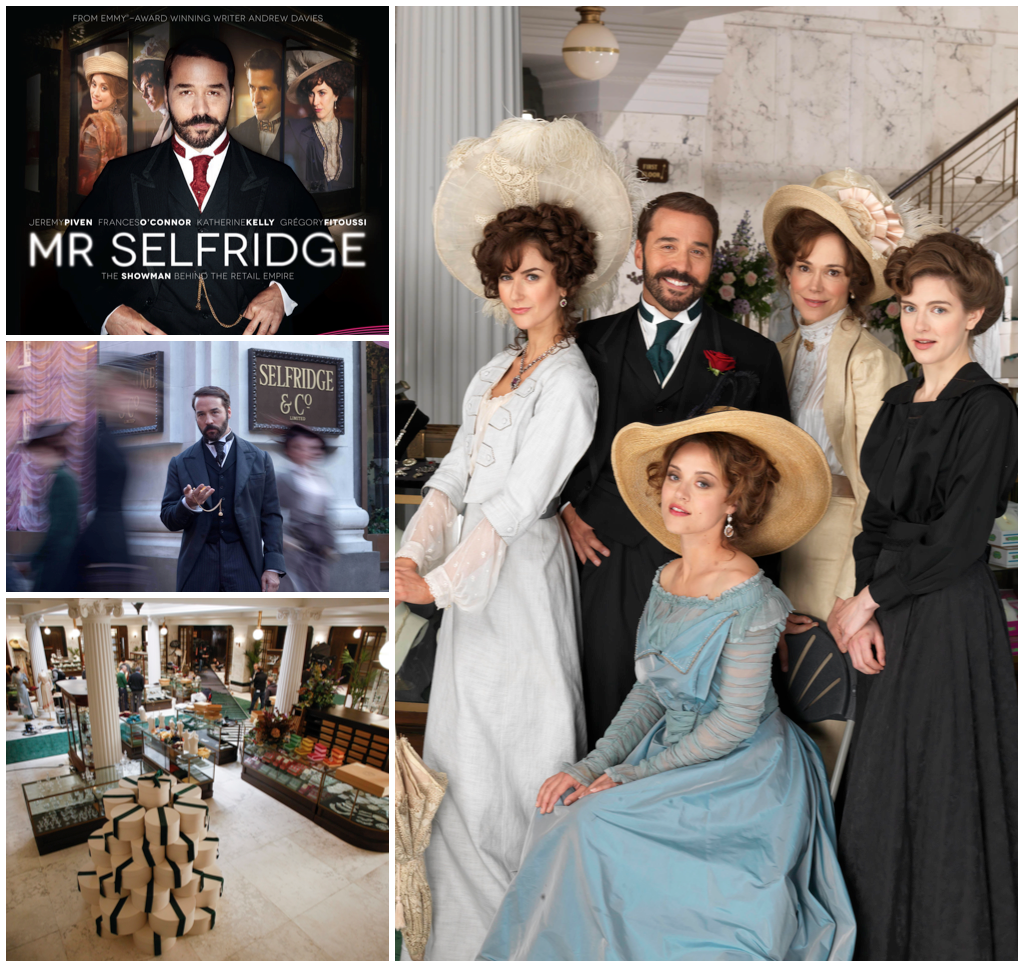 Mr. Selfridge is een Amerikaanse zakenman die een warenhuis opent in Londen. De serie heeft een aantal afleveringen nodig om alle personages te introduceren maar na een aflevering of drie wordt de serie niet alleen visueel maar ook dramatisch heel leuk om naar te kijken. De verhaallijnen volgen de familie van Selfridge en de werknemers van het warenhuis. Selfridge is een man die van spanning houdt. Hij gokt, drinkt, heeft affaires, nodigt wereldberoemde mensen uit in zijn winkel en probeert het meest vernieuwende personeel aan te trekken.
English: Mr. Selfridge is an American bussinessman who opens a departmentstore in London. The series needs a couple of episodes to introduce all characters but after the first three episodes the series becomes dramaticaly interesting besides being visually interesting. We follow the Selfridge family but also a couple of employees from the shop. Selfridge is a man who likes excitement. He gambles, drinks, has affaires, invites celebrities to his store and hires staff that likes to innovate.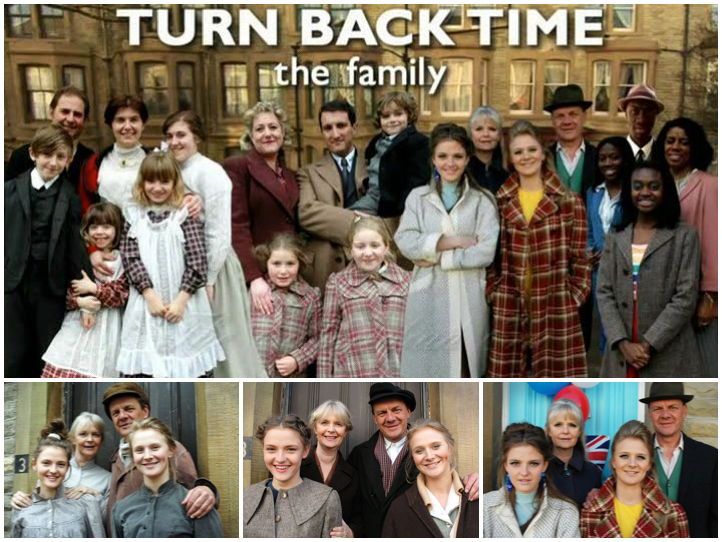 Top: all families participating in the series
Bottom: The Meadows Family is the Edwardian Era, The 20s and the 60s
All photos come from the BBC website
Turn Back Time; The Family is geen dramaserie maar een soort documentaire. 4 gezinnen leven 5 weken het leven van hun voorouders. Elke week leven ze volgens de gebruiken van een ander decennium. De eerste week wordt er geleefd zoals in de Edwardian Era, in de tweede week zijn de jaren '20/'30 aan de beurt, gevolgd door de Tweede Wereldoorlog, de jaren '60 en de jaren '70. De gezinnen wonen in dezelfde straat. Één huis is upper-class, één huis is middle-class en één huis working-class. Op basis van een voorouder van elk gezin wordt bepaald wie in welk huis woont. Tussen aflevering 3 en 4 in moet één van de families vertrekken, zoals één van de voorouders van dit gezin verhuisde naar een buitenwijk. Hun plaats wordt gevuld door een familie waarvan een voorouder als immigrant naar Engeland kwam in de jaren '60. Voor Turn Back Time; The Family was er al Turn Back Time; The Highstreet. In deze serie staat niet het gezin maar de winkelstraat in het middelpunt. Ik heb deze serie nog niet gezien maar hij is ongetwijfeld net zo boeiend als de huidige serie.
English: 'Turn Back Time; The Family' is not a drama series, but more of an documentairy. 4 families trade their lives for 5 weeks to live the lifes of their ancestors. Every week they live according to the ways of another decade. The first week they live like in the Edwardian Era, the second week it's the 20s/30s, followed by the Second World War, the 60s and the 70s. The families live in the same street. One house is fitted like the house of an upper-class family, one like a middle-class family and one of a working class-family. The living conditions of one of the ancestors of each family decides which family will live in which house. between the third and forth episode one of the families has to leave just like their ancestor moved to a suburb. Their place is filled by a family who has an ancestor that arrived in England as an immigrant. Before 'Turn Back Time; The Family' there was 'Turn Back Time; The Highstreet'. In this series it's not the family but the shopkeeper that we follow. I haven't this series yet but I'm sure it will be just as interesting.
The Secret of Crickley Hall is een mini-serie van 3 afleveringen. De serie speelt zich in beginsel af in het heden maar we zien ook flashbacks uit de jaren '40. Een Londense familie verhuist voor korte tijd naar Crickley Hall i.v.m. het werk van de vader van het gezin. Als snel gebeuren er onverklaarbare dingen in het huis en na wat rondvragen blijkt het landhuis in 1943 een weeshuis te zijn geweest waar kinderen uit grote steden werden ondergebracht i.v.m. de oorlog. Tijdens een overstroming zijn op twee kinderen na alle weeskinderen verdronken.
De serie is een beetje van alles, dramaserie (het zoontje van het gezin raakt aan het begin van de eerste aflevering vermist), historische serie, horror (vanwege de geesten die in het huis lijken rond te spoken) en thriller (vanwege een moordlustige man die door geesten wordt geteisterd danwel geestes ziek is). Ik hou zelf helemaal niet van horror en thriller maar door het historische element werd ik toch nieuwsgierig. De serie was iets te eng naar mijn smaak maar ik moest hem afzien omdat de eerste aflevering me wel ongelofelijk nieuwsgierig maakte.
English: 'The Secret of Crickley Hall' is a mini-series of three episodes. The series is about a modern-day family that temporarily moves to Crickley Hall. Although the series is set in the presence, there are also flashbacks to the 40s. Soon after the family's arrival inexplicable things start happening at Crickley Hall. After asking around in the village they find out that the mansion was an orphanage in 1943, where children from cities were accommodated because of the war. During a flood all but two children died inside the Hall.
The series has a bit of everything. It's is a drama (the son of the family is missing), it is a historical series, there's horror (because the Hall seems to be haunted) and thriller (because of murderous elderly man who is either haunted by ghosts or mentally ill). I am not into horror or thrillers at all but because of the historical element in the story I became very curious. I found the series a bit to scary for my taste but I had to see all three episodes after I saw the first one because I reallywanted to know how it would end.
Time ended: 20.17
Watching: Call the Midwife