Thursday, August 29th, 2013

The Color Purple is a musical theatre adaptation of Alice Walker's best-selling novel. I saw the movie a couple of years ago and it left somewhat of an impression. Loving the previous productions I saw at the Menier Chocolate Factory I wanted to see their latest production as well. 
The Color Purple takes place between 1914 and 1945 in the southern states of the United States. It tells the story of Celie (Cynthia Erivo). After giving birth to two children fathered by her step-father she is married off to Mister (Christopher Colquhoun). Mister originally wanted to marry Celie's beautiful sister, Nettie (Abiona Omonua). But her father wants her to become a teacher. Celie wants to protect her little sister and so she obediently marries Mister. Mister is in love with jazz-singer Shug Avery (Nicola Hughes) and he beats up Celie for the sheer fact of her not being like Shug. Shug tours the country with her singing act and is known for her flings and several illegitimate children. Celie and Shug fall in love but soon Shug leaves again to sing. But before she leaves she finds the many letters that Nettie send to Celie, and Mister had hidden from her.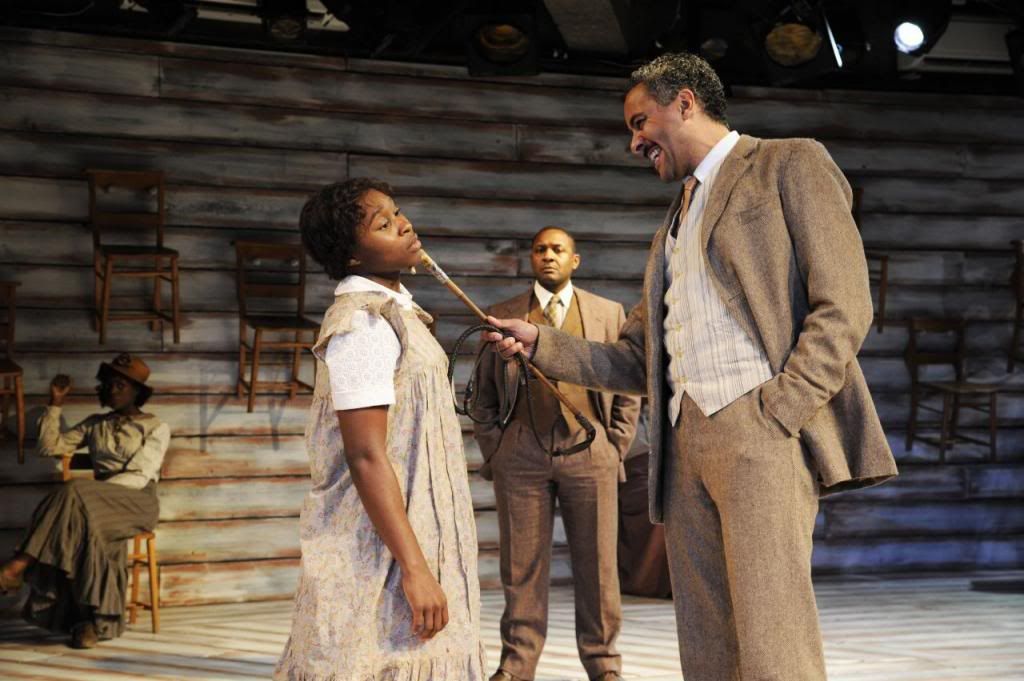 Celie and Mister. Pa (Neil Reidman) is seen in the background.