Thursday, August 29th, 2013

The Color Purple is a musical theatre adaptation of Alice Walker's best-selling novel. I saw the movie a couple of years ago and it left somewhat of an impression. Loving the previous productions I saw at the Menier Chocolate Factory I wanted to see their latest production as well.
The Color Purple takes place between 1914 and 1945 in the southern states of the United States. It tells the story of Celie (Cynthia Erivo). After giving birth to two children fathered by her step-father she is married off to Mister (Christopher Colquhoun). Mister originally wanted to marry Celie's beautiful sister, Nettie (Abiona Omonua). But her father wants her to become a teacher. Celie wants to protect her little sister and so she obediently marries Mister. Mister is in love with jazz-singer Shug Avery (Nicola Hughes) and he beats up Celie for the sheer fact of her not being like Shug. Shug tours the country with her singing act and is known for her flings and several illegitimate children. Celie and Shug fall in love but soon Shug leaves again to sing. But before she leaves she finds the many letters that Nettie send to Celie, and Mister had hidden from her.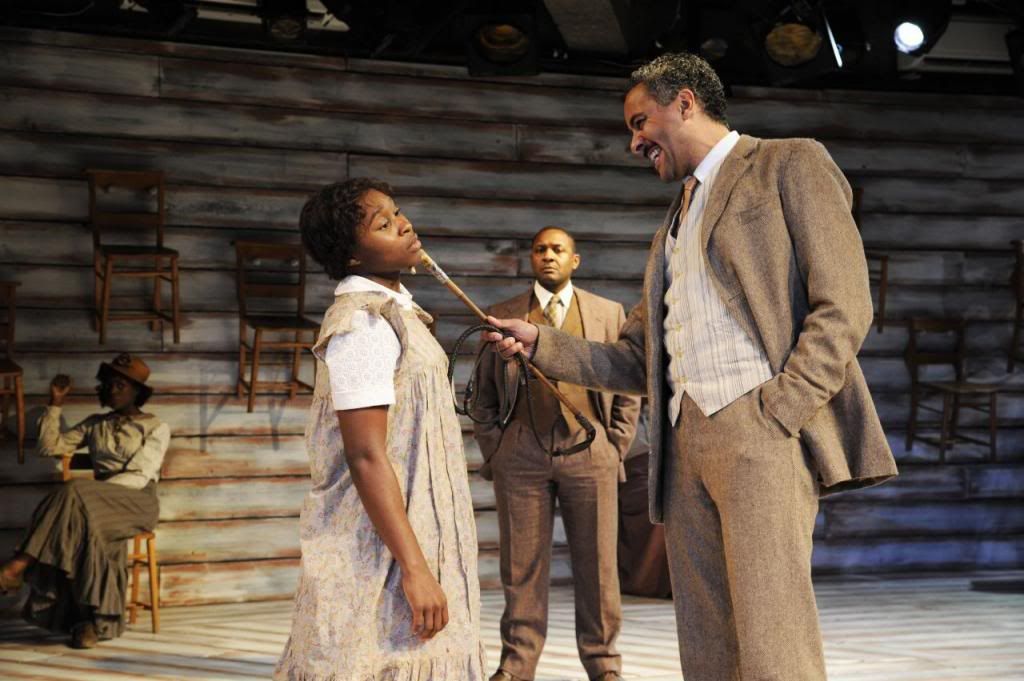 Celie and Mister. Pa (Neil Reidman) is seen in the background.
Not having read the book I was surprised when the interval took place at the end of the movie. To me it seemed that the ending was stretched out, only because the film ends at a certain point. What happens after the movie ends is interesting but the musical gives the impression of ending with several endings (this was also the opinion of my friend who hadn't seen the movie). This makes the plot shaky and that is a pity for an otherwise beautiful evening of musical theatre.
The music of
The Color Purple
is a mix of jazz, ragtime, gospel and blues. The music sounds very natural and one musical genre floats organically into the other. Listening to the Broadway album you might notice some parts sound like big show tunes. I had the feeling that those parts were cut or amended for this Menier Chocolate Factory production. The showy elements in the music feel completely out of place in the score and would have felt even more out of place in the intimate Chocolate Factory. Similarly to his production of
Road Show
, director and set designer John Doyle chose to use a minimal scenography, consisting of a wooden floor, a wooden backdrop and wooden chairs. Functional but beautiful seems to be his, very effective, principle.
Left upper corner: Sofia (Sophia Nomvete) and Harpo (Adebayo Bolaji)
Right upper corner: Harpo
Left lower corner: Celie and Shug
Right lower corner: Celie with Nettie in the background
The cast is outstanding. Especially as an ensemble, all words, music and gestures come out with full energy. The individual performances are superb as well, sometimes subtle but it's always clear what is meant. Especially Christopher Colqugoun's (playing Mister) and Sophia Nomvete's (playing Sofia) performances are grand. Their characters go through big transformations and they manage to show this physically as well as psychologically.
Although the plot revolves around a multitude of story lines the story never gets too complicated to follow. All plots are interesting and most of them aren't that common in theatre. The stories of lesbian women are hardly seen in theatre but the story of a lesbian black woman in the 1930s may even be a first. But The Color Purple is much more than the story of one woman, it is the story of a community that nowadays would be called dysfunctional. But by showing it's dysfunction it seems a warning from the past as well as a good night out of solid performance skill.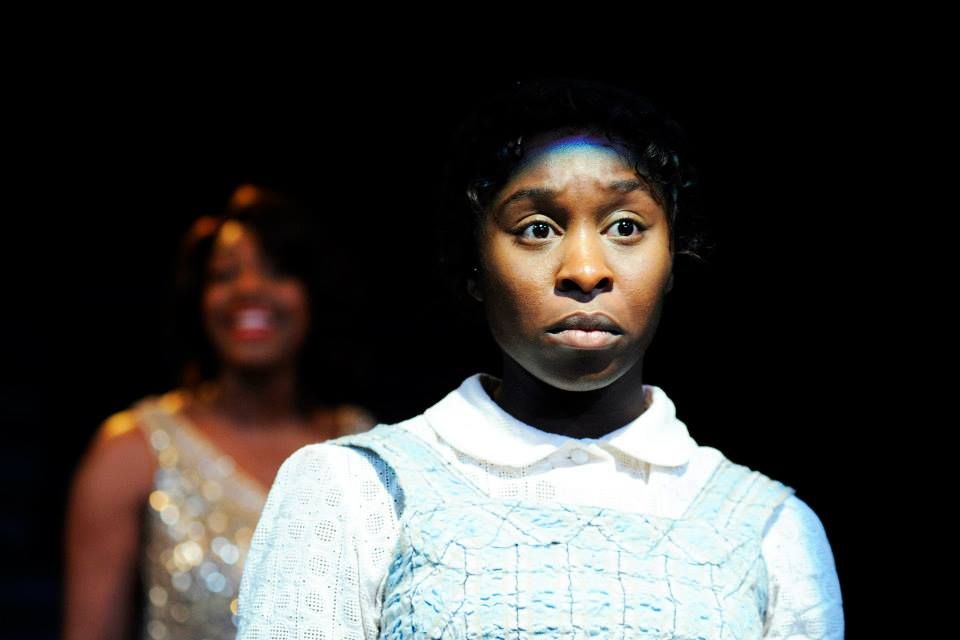 Celie (with Shug Avery in the background).
All performances are sold out. It is possible to sign yourself up to get a notification if more performances are scheduled. You could also take your chance and try to get a returned ticket. The queue for evening performances opens at 6pm. The queue for returned matinee tickets opens at 1pm.
Photos in this post are made by Nobby Clark.