Time started: 16.32
Watching: Once upon a time
Wie mijn blog een tijdje volgt weet dat ik regelmatig vintage foto's post. Vooral ook foto's die ik zelf bijzonder vind maar waar op de achterkant niets op staat over het jaartal waarin de foto is gemaakt plaats ik hier graag. Foto's waarvan wel duidelijk is in welk jaar ze zijn gemaakt kun je ook online bekijken, namelijk op mijn
Pinterest
. Toen ik voor het eerste hoorde over Pinterest (met dank aan de blog
VixenVintage
) was ik meteen enthousiast. Ik ben dol op mooie plaatjes en ik had, voor ik Pinterest ontdekte, nogal de neiging om een heleboel plaatjes op mijn computer op te slaan. Dat is nu niet meer nodig en Pinterest heeft voor mij als dramaturg nog een tweede groot voordeel. Van elk tijdperk heb ik een prikbord gemaakt zodat ik nu in 1 oogopslag inspiratie op kan doen voor elk modebeeld dat bij een bepaald tijdperk hoort. Ik heb pinboards voor de 17de, 18de en 19de eeuw. En voor elk decennium tussen 1900 en 1960. Of ik maak een pinboard om beeldmateriaal te verzamelen voor een bepaalde productie waar ik aan werk. Zo heb ik bijvoorbeeld een pinboard aangemaakt toen ik werkte aan een voorstelling over
Marlene Dietrich
.
Op de
site van het Victoria & Albert Museum
staat per decennium een uitgebreide beschrijving van hoe je foto's kunt dateren aan de hand van de kleding die de mensen op de foto dragen. Er is een pagina na voor elk decennium tussen 1840 en 1960.
Mijn andere prikborden bestaan uit dingen die ik mooi vind. Zo heb ik er één voor foto's van plaatsen waar ik ben geweest en die ik graag zou bezoeken. Ik heb een pinboard vol met
Jeugdsentiment
, een pinboard met
silhouetten
, een prikbord met
miniaturen
en ik ben pas een board begonnen vol
vintage theaterfotografie
.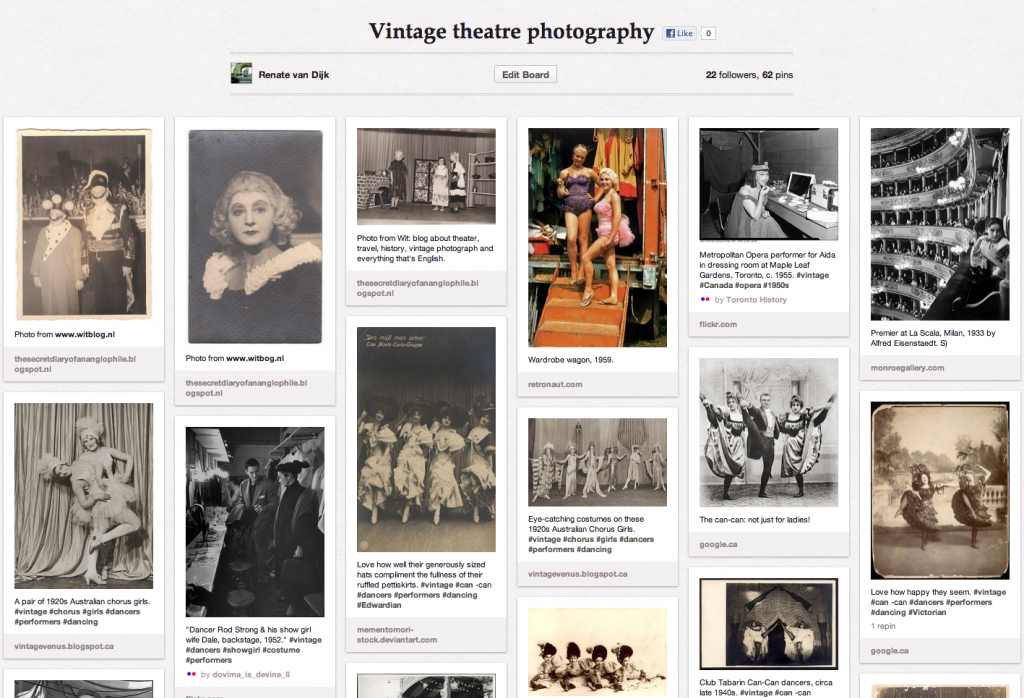 English: Pinterest is ideal for someone like me who used to collect hundreds of beautiful pictures on there computer. Now I can just pin them and save lots of room on my hard drive. But for me as a dramaturg, Pinterest is also very useful because I made boards for several era's. Now, if I need an impression of how the fashion in a specific an era looks I just look at the pinboard for the era and I'll be overloaded with ideas. I made boards for the 17th, 18th and 19th century. And a board for every decade between 1900 and 1960. Occasionally I make a pin board for a theater production I'm working on. Like the one I made for a production about
Marlene Dietrich
.
Time ended: 18.03