Time started: 14.31
Watching: House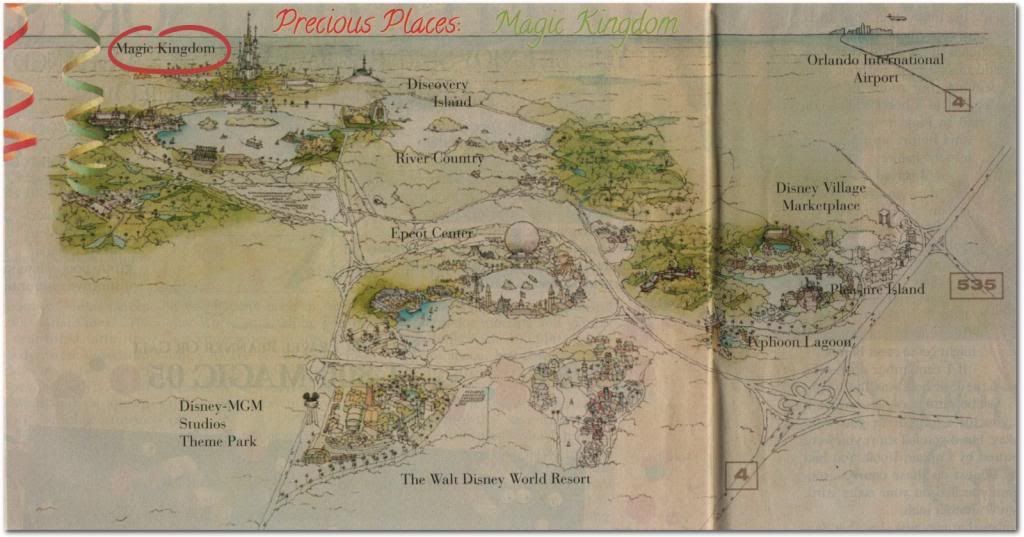 Map from 1991

via
Bij het binnenkomen in Magic KIngdom valt op dat het veel groter is opgezet dan het Disney park in Parijs. Paden zijn breder, de gebouwen zijn misschien zelfs groter maar in elk geval zijn er meer gebouwen. Waarmee ik bedoel dat elk "land" meer gebouwen heeft. Mainstreet U.S.A. is bijvoorbeeld langer en een grote attractie is The Haunted Mansion (in Parijs heet het equivalent Phantom Manor) lijkt haast in een hoekje verscholen te zitten. Van binnen is het spookhuis gek genoeg juist veel uitgebreider dan in Parijs. De loop door het huis heen waarbij je veel schilderijen ziet is in Florida verwerkt in de attractie, dus je loopt er niet langs maar rijd er langs terwijl je in je karretje zit.
English: When I walked into Magic Kingdom park I noticed that it's bigger then the Disney park in Paris. The paths are broader, the buildings might even be bigger but in any case the number of buildings is bigger. For example, Main Street is longer and The Haunted Mansion (In Paris the equivalent is called Phantom Manor) seems to be hidden in a corner. However, inside the attraction is much bigger than in Paris.
Sommige attracties zijn duidelijk verouderd, zo zijn er bijvoorbeeld geen achtbanen waarbij je over de kop gaat. Maar bij de meeste attracties vond ik het enigszins gedateerd zijn juist zijn charme hebben. 1 van de attracties in Tomorrowland (in Parijs Discoveryland genoemd) is zelfs nog origineel geheel door Walt Disney zelf bedacht: Carousel of Progress. De attractie werd gemaakt voor de New York World's Fair in 1964. Daarna verhuisde de attractie naar Disneyland in California en in 1975 werd de attractie verplaatst naar zijn huidige lokatie in Disney World. Het is de enige attractie in Disney World die nog door Walt Disney zelf is aangeraakt.
English: Some attractions are somewhat outdated but I found this part of it's
charm. Only 1 of the attractions, The Carousel of Progress has been touched by Walt Disney him self. It was originally made for the New York World's Fair in 1964. After that it was moved to Disneyland in California and in 1975 it came to Disney World.
Tijdens ons bezoek aan Disney World waren de previews van een aantal attracties. In Disney's Hollywood Studios park kon de nieuwe Pirates of the Caribbean attractie bezocht worden (daarover later meer in een andere post) en in Magic Kingdom park was New Fantasyland geopend voor een preview. New Fantasyland is een nieuw gedeelte in Fantasyland dat zich met name richt op de prinsessen van Disney. Ook is er een gedeelte toegevoegd dat een circus thema heeft: Storybook Circus genaamd. Klik op het plaatje hieronder om te zien welke fantastische toevoegingen er zijn gemaakt en nog in aanbouw zijn.
English: During our stay at Disney World some new attractions were previewed. In Disney's Hollywood Studios we got to visited the new 'Pirates of the Caribbean' attraction (more about that in a later post) and in Magic Kingdom park we previewed New Fantasyland.
Voor toegang tot het nieuwe restaurant dat er uit ziet alsof het in het kasteel van Belle en het Beest is gesitueerd en Maurice's Cottage stonden enorme rijen. Wel zijn we in de dark-ride The Voyage of The Little Mermaid geweest en hebben we een kijkje genomen in Gaston's Tavern. Ik kocht er een bakje hummus met mini pretzels en een beker LeFou's Brew. Dit is een drankje dat alleen te verkrijgen is in Cars Land in Disneyland in California verkrijgbaar en in Gaston's Tavern dus. Het drankje is een frisdrank met ijs en bevat suikervrije appelsap met een lichte marshmallow smaak met bovenop schuim met mango-passievrucht smaak. Lekker zoet maar toch ook fris. Maar vooral is het veel te veel, ik ben maar net over de helft gekomen met opmaken.
English: Some new sites had a really long lines but we did ride the new dark-ride The Voyage of the Little Mermaid and Gaston's Tavern.
Top 5 van attracties die ik niet had willen missen:
1. Splash Mountain: Een attractie die een combinatie is van dark ride (in het donker worden scènes uit de film Songs of the South uitgebeeld door animatronics), boomstamattractie (volgens wikipedia heet wat ik bedoel zo) en achtbaan.
2. Jungle Cruise: Dit is een klassieker waar in Amerikaanse TV programma's regelmatig aan gerefereerd wordt bovendien zijn de "reisleiders" echt grappig.
3. Walt Disney's Carousel of Progress: zie de tekst hierboven.
4. Celebrate the Magic: aansluitend aan de lichtjes parade start een show met muziek, vuurwerk, projecties op het kasteel en een echte Tinkelbel die echt weg lijkt te vliegen vanaf het topje van het kasteel.
5. Haunted Mansion: De attractie is veel langer en uitgebreider dan in Parijs.
English: Top 5 attractions that I wouldn't want to miss:
1. Splash Mountain: This attraction is a combination of a dark ride, a log flume and a roller coaster.
2. Jungle Cruise: A classic attraction that is often referenced to in American TV programs. On top of that, the cast members that serve as skipper/travel leader really are funny.
3. Walt Disney's Carousel of Progress: see my earlier remarks.
4. Celebrate the Magic: directly after the Main Street Electrical Parade a show with music, fireworks, projections on the the castle and a real Tinkerbel, who really seems to fly, starts.
5. Haunted Mansion: This attraction is much bigger than Phantom Manor in Paris.
Time ended: 17.41
Watching: The Paradise