Tuesday, 28 May 2013
Van de 15de t/m de 18de eeuw werden instellingen voor psychiatrische patiënten 1 maal per jaar opengesteld aan publiek. Tegen betaling kreeg men toegang tot een menselijke dierentuin. Dit "evenement" werd de Dolhuys kermis genoemd. Opera2Day heeft vorig jaar een voorstelling over dit fenomeen gemaakt. Ook toen wilde ik dolgraag naar de voorstelling maar omdat ik in de 2 weken dat het te zien was zelf in een voorstelling speelde lukte dat helaas niet. Maar dit jaar dus opnieuw een kans.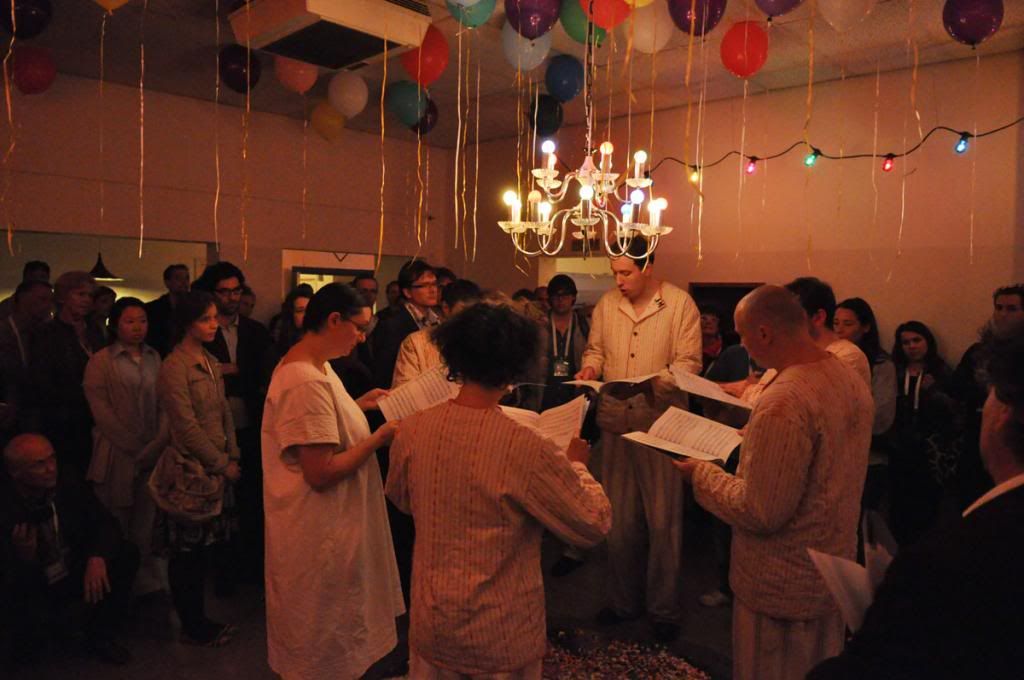 Bij binnenkomst valt direct op dat het gebouw (dat op sommige plaatsen enigszins vervallen is en door Ad-Hoc wordt beheert) gebouw mooi is aangekleed. Er wordt ons op het hart gedrukt om het aan ons uitgereikte keycord om te houden zodat we niet per ongeluk aan worden gezien voor een patiënt en de instelling nooit meer uit mogen. De voorstelling is een wandeling door het voormalig ziekenhuis/het dolhuys waarbij we onderweg langs een aaneenschakeling van muziek en scènes komen. Maar ook wordt er soms kort iets verteld over de geschiedenis van de dolhuys kermis en psychische zorg. In de zaal waar de voorstelling begint en eindigt zijn bovendien ook oude foto's te zien m.b.t. psychische zorg.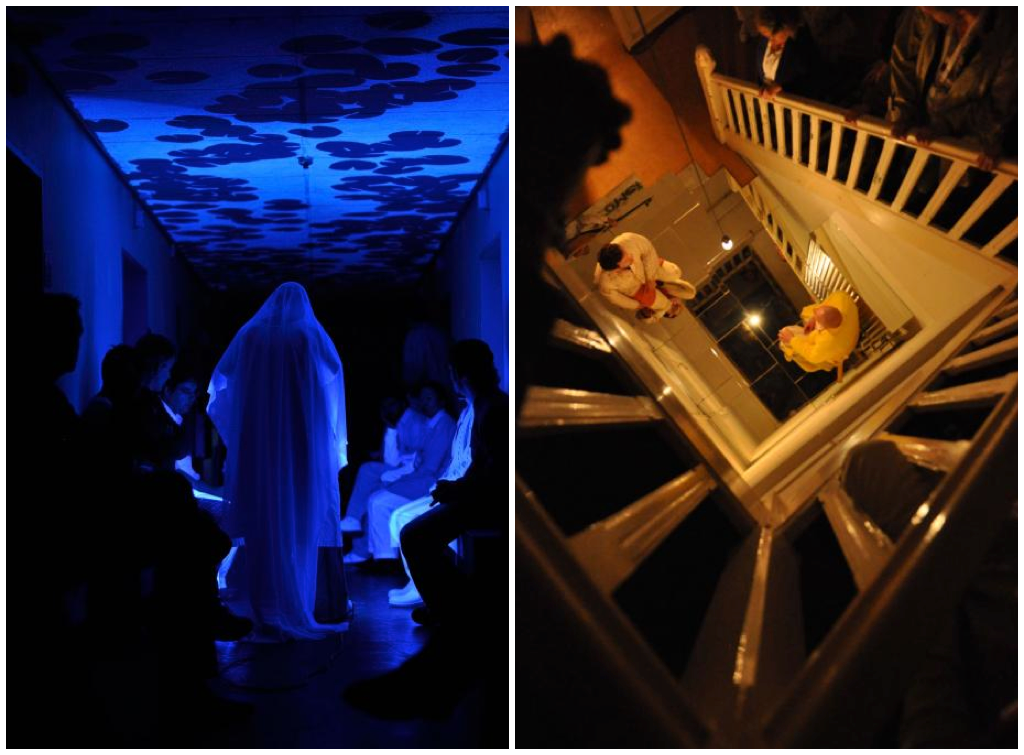 Left: Lamento della ninfa
Right: Zefiro Torna
De zangers, zangeressen en musici zijn in 1 woord uitmuntend. De eerste keer dat er gezongen werd was dat a cappella en meerstemmig. Echt prachtig. Ik heb zelf eigenlijk niks met de componisten Monteverdi en Carissimi. Ik ken ze van naam en heb er wel eens iets van gehoord in een college maar ik luister het zelf nooit. Ik heb zelf dus weinig verstand van de muziek in de voorstelling. Maar het past precies in het decor van het voormalige ziekenhuis en de sfeer die Opera2Day weet neer te zetten met behulp van rekwisieten en belichting.
Naast de voorstellingselementen zijn er tijdens de wandeling ook kleine kunstwerkjes te zien die voor de voorstelling zijn aangebracht. Hier komt later nog een post over als ik zaterdag wat foto's heb kunnen maken van het gebouw. Ook hoe de scènes belicht zijn is echt uitzonderlijk. Het is verrassend, sfeerverhogend en voegt soms zelfs inhoud toe aan het geheel.
Patrick wants to go to sea
Er is geen verhaallijn. Alle scènes en elementen bij elkaar vormen eerder een beeld van wat de psychiatrische instelling vroeger voorstelde. Daarnaast roept de voorstelling vragen op als "Wanneer spreek je van iemand die geestelijk ongezond is?". In vroege tijden werd iedereen die buiten de gangbare (oftewel, wenselijke) omgangsvormen viel gezien als krankzinnig. Zo zag ik een foto van een meisje van 14 dat werd beschreven als een vrouw met een normale intelligentie die niet wilde gehoorzamen. Een normale puber zou ik zo denken maar daar dacht de instelling waar de foto vandaan kwam dus anders over. Ze werd omringd door medebewoners die ook werden gezien als krankzinnig, zoals: geesteszieken, lijders aan epilepsie, zwakzinnigen, mensen die asociaal gedrag vertoonden, oproerkraaiers, verslaafden en dementerende.
De voorstelling speelt alleen op locatie in het voormalige NEBO-ziekenhuis in Scheveningen. Kaartjes zijn te verkrijgen via www.ks.nl. Mocht je 1 juni komen dan kom je me misschien nog tegen. Ik verzorg de boventiteling bij 1 van de scènes. Misschien tot dan!
~~~
English: From the 15th until the 18th century it was tradition to open psychiatric hospitals to the public. Once a year people could pay to have a look at the patients. In The Netherlands this 'event' was called Dolhuys Kermis (Dolhuys used to be the name for mental institutions and Kermis means fair). Last year Opera2Day made a performance about this phenomenon. Last year I couldn't go because, during the shows I played in a show myself. Luckily, this year I got a second chance.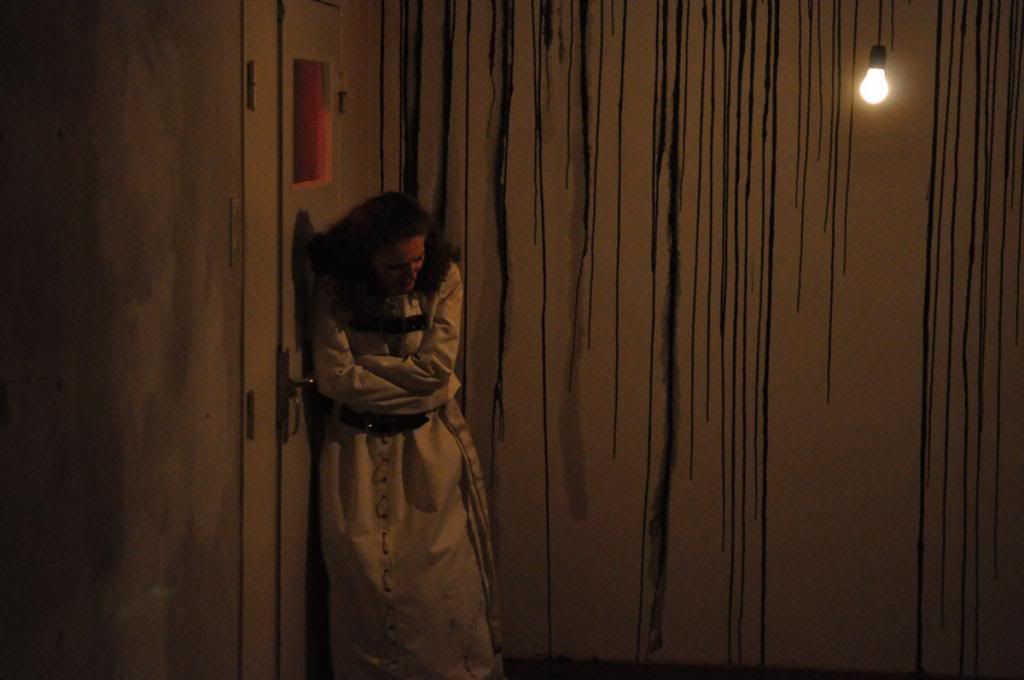 Lamento della regina Maria Stuarda
This performance is a walk through what used to be a hospital. We were welcomed as visitors of a Madhouse Fun Fair. During the walk we saw a collection of music, scenes and short talks about the history of Madhouse Fun Fairs and psychological healthcare. The singers and musicians are
exceptionally talented. I don't really know that much about the composers Monteverdi and Carissimi. I've heard about them during lectures, but that's about it. But I do know that the music fitted perfectly with the atmosphere that Opera2day creates with props and lighting design.
This production is only played at what used to be the NEBO hospital in Scheveningen. Tickets are available at www.ks.nl. If you happen to go on june 1st you might see me as well. I'm the one taking care of the supertitles in one of the scenes. This is a performance in Dutch though. But there will also be a performances in English on june 2nd. Click on the following links for more information:
Koninklijke Schouwburg
&
Opera2day
.
Scènefotografie: Roelof Pothuis