Time started: 21.33
Listening: Crazy in Love (Kid Koala Version) - Emeli Sandé & The Bryan Ferry Orchestra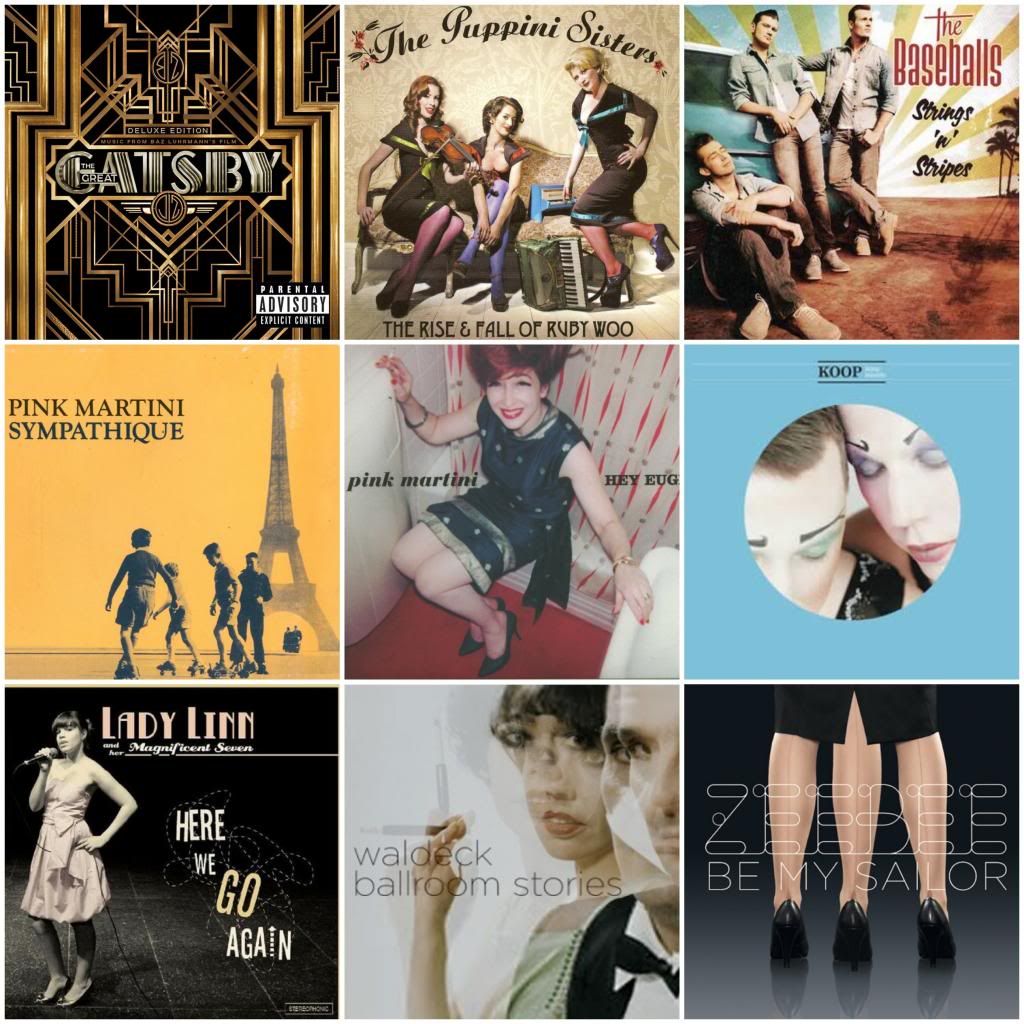 Op dit moment luister ik voor het eerst naar de soundtrack van The Great Gatsby. Ik hou van de films van Baz Luhrman. Ik heb genoten van Romeo + Julia en Australia maar mijn absolute favoriet uit zijn ouvre is Moulin Rouge. Toen ik een paar maanden geleden op iTunes de trailer van zijn nieuwste film zag deed me dat erg denken aan Moulin Rouge. Nu luister ik dus naar de soundtrack en zonder dat ik de gehele cd al heb
afgeluisterd heb ik nu al een favoriet: Crazy in Love door Emeli Sandé & The Bryan Ferry Orchestra. Een aantal nummers klinken echt herkenbaar als een soundtrack van een Luhrman film.
English: At this very moment I'm listening to the soundtrack of 'The Great Gatsby' for the first time. And although I haven't listened to the whole album yet, but I have a favorite already: 'Crazy in Love' by Emeli Sandé & The Bryan Ferry Orchestra.
Ik ben dol op oude muziek maar bijna net zo veel hou ik van vintage inspired muziek. De Beyoncé cover op deze soundtrack is absoluut zo'n vintage inspired nummer, die klinkt alsof het uit de jaren '20 komt. Ook de Puppini Sisisters maakte al eens een op muziek uit de jaren '50 geïnspireerde cover van Crazy in Love.
English: I love vintage inspired music. This Beyoncé cover sounds as if it came from the roaring 20s. The Puppini Sisters made a 50s inspired cover of Crazy in Love some time ago.
Naast de Nederlandse Caro Emerald, Room Eleven en Wouter Hamel zijn er nog tal van andere, wellicht onbekendere, artiesten met vintage inspired muziek:
The Baseballs
Een zangtrio dat moderne hits (zelfs Het is een nacht van onze eigen Guus Meeuwis!) laat klinken alsof het door Elvis himself wordt gezongen. Ik ben zelf nooit echt een liefhebber geweest van Elvis (hoe dol ik ook ben op de meeste muziek (en andere dingen) gerelateerd aan de jaren '50. Toch is de muziek van The Baseballs erg leuk af en toe. Ook The Baseballs hebben hun eigen Crazy in Love, goes Rock 'n Roll, versie. Andere persoonlijke favorieten zijn hun versie van I Don't Feel Like Dancin' en Hey There Delilah. Op het tweede album van dit trio klinken een aantal liedjes die ook beïnvloed werden door The Beach Boys, zo ook hun cover van Candy Shop. (Dit is de officiële clip, het liedje zelf begint pas na 1 minuut.)
English: Besides Caro Emerald, Room Eleven and Wouter Hamel there are lots of other vintage inspired artists:
The Baseballs
This trio covers modern hits and make them sound as if they were sung by Elvis or The Beach Boys. I've never been an Elvis fan but I do like The Baseballs once in a while. The Baseballs had a rock 'n roll version of 'Crazy in Love'. But other favorites of mine are 'I Don't Feel Like Dancin' ' and "Hey There Delilah'. One of there Beach Boys inspired covers is 'Candy Shop'.
Lady Linn and Her Magnificent Seven
Lady Linn en haar band schrijven nieuwe muziek maar hun eerste albums (er zijn er momenteel twee uit) klinkt heerlijk jaren vijftig/zestig. Ik vind al hun nummers heerlijk (al moet ik eerlijk bekennen dat de bonus van hun eerste album mij toch echt vals in de oren klinkt en me dus ook gestolen mag worden) en één van mijn absolute favorieten is Shopping.
English:
Lady Linn and Her Magnificent Seven
Lady Linn and her band write new songs but there first two albums sound as if they come straight from the 50s or 60s. My personal favorite is 'Shopping'.
Waldeck
Waldeck weet hun muziek vintage en tegelijkertijd modern te laten klinken door samples te mixen met jazz instrumenten. Eerlijk gezegd weet ik niet eens hoe een optreden van Waldeck er uit zou zien. Is het een DJ? Is het een band? Zijn er zangers? Ik heb werkelijk geen idee maar ik luister er graag naar als ik achter de computer zit.
English:
Waldeck
Waldeck's music sounds vintage as well as modern because they mix samples with jazz instruments. To be honest I have no clue how a performance by Waldeck would look. Is it a DJ? Is it a band? Will there be any singers? I have no idea, all I know is that I like to listen to it when I'm behind my computer.
Koop
Koop en Waldeck hebben veel van elkaar weg omdat ze beide gebruik lijken te maken van instrumenten en samples. Koop doet me iets meer jazzy aan dan Waldeck maar omdat ze beide putten uit een jaren '30 sfeer komt het jazzy gevoel bij beide terug.
English:
Koop
Koop and Waldeck sound somewhat similar because they both use samples. Koop seems a bit more jazzy to me though. But because they both use sounds of the '30 they obviously both sound a bit jazzy.
Pink Martini
Het repertoire van Pink Martini is erg uiteenlopend. Er wordt gezongen in het Engels, Frans, Portugees, Japans, Arabisch, Spaans en Russisch. Er wordt geen gebruik gemaakt van samples en de muziek klinkt dan ook helemaal niet electronisch. Wel klinken er veel muziekstijlen in door, van pop en jazz tot traditional. Één van mijn favorieten is Hey Eugene. Een pop liedje dat nou net niet vintage klinkt maar wat wel een hitje scoorde en je dus misschien bekend voor komt. Maar in deze blogpost dus een ander nummer. Een echte standard: Tea for Two.
English:
Pink Martini
The Pink Martini repertoire is very divers. They sing in English, French, Portuguese, Japanese, Arabic, Spanish and Russian. They don't use samples and their music doesn't sound electronic at all. You do hear a lot of different muic genres in their music, from pop and jazz to traditional. One of my favorites is 'Hey Eugene', that became a hit in 2007. But it's a pop song that doesn't sound vintage at all. So for this blogpost I chose 'Tea for Two', a jazz standard.
Zeebee
Zeebee combineert jazz, pop, elektronische, akoestische en klassieke muziek. Met behulp van samples en live muziek weet ze net als Koop en Waldeck muziek te creëren die oud en nieuw tegelijk klinkt. Dat haar muziek iets wegheeft van Waldeck is ook niet zo vreemd als je weet dat ze ook liedjes heeft ingezongen op albums van Waldeck.


English:
Zeebee
Zeebee combines jazz, pop, electronica, acoustic and classical music. Just like Koop and Waldeck she mixes samples and live music, which makes her music sound old and new at the same time. It isn't to weird that her music sounds somewhat like Waldeck because she can also be heard in some of the songs on the Waldeck albums.
Binnenkort volgt een blogje over échte vintage muziek.
English: A blog about my favorite vintage music (so not vintage inspired, but really old) is coming soon.
Time ended: 15.51
Listening: I want her but I don't want her - Zahed Sultan [Hôtel Costes 15 - Stéphane Pompougnac]