Tuesday, October 8th, 2013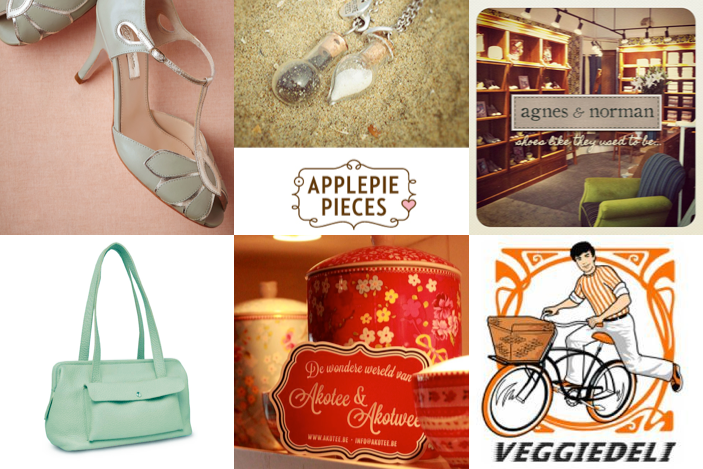 Als je weinig geld hebt lijkt het wel of er nog meer is dat je wilt kopen, dan wanneer je het wat breder hebt. Bij mij lijkt dat in elk geval te kloppen. De laatste tijd kwam ik weer ongelofelijk veel webshops tegen die ik nog niet kende. De leukste zet ik op een rijtje:



Rachel Simpson
Prachtige pumps, gespecialiseerd in bruidsschoenen (maar deze schoenen staan ook zeker niet verkeerd onder een jurkje of een spijkerbroek).
Applepiepieces
Applepiepieces is de webshop een Scheveningse sieradenontwerpster. Mijn persoonijke favoriet is de ketting met een minituurflesje. Je kunt zelf kiezen welke vorm flesje je wil en waar het zand dat in het flesje zit vandaan komt. Ook kan je kettingen met een leeg flesje kopen zodat je zelf het zand van je favoriete strand in het flesje kan doen.
Keecie
Mooie tassen, portemonnees en etuis. Gemaakt van mooi materiaal, met aan de binnenkant de mooiste afbeeldingen.
Akotee
Een verzameling van leuke tassen (van merken als Pip Studio en Disaster Designs), sieradenrekjes, retro blikken en thermosflessen, regenlaarzen en flamengo schoenen.
Veggiedeli
Een online vegan supermarkt. Hoewel ze geen spullen van de vegetarische slager verkopen (gemiste kans! Al gok ik dat niet alles van de Vegaslager vegan is) staat deze webshop vol met heerlijke vleesvervangers. Voor vegans een aanrader want er zijn stapels vegan producten: kaas, chocolade, chocoladepasta, truffels, ei, mayo, jus, hongaarse salade, cake, koffiemelk, het is er allemaal te vinden in vegan variant. Ik heb zelf nooit de ambitie gehad om vegan te leven maar sinds ik steeds vaker migraine krijg van melkproducten ben ik toch wel erg benieuwd naar de vegan kaas.
~~~
English: Doesn't it seem like the less money you have, the more you would like to buy? This is the case with me any way. The last couple of weeks I came across lots of webshops I didn't know. Here are some the nicest finds:
Rachel Simpson
Beautiful pumps. This shop specializes in wedding shoes (but who says these shows won't fit nicely with some jeans as well).
Applepiepieces
Applepiepieces is the webshop of a jewelry designer from Scheveningen. My personal favorite is the necklace with a miniture bottle. You can chose between a long or short necklace, what shape you want the bottle to be and you can chose the beach that you would like the sand in the bottle to come from. You can also chose an empty bottle so you can fill it with sand from your own favorite beach.
Agnes & Norman
Vintage inspired shoes by the same Rachel Simpson as mentioned earlier.
Keecie
Beautiful bags, wallets and pencil cases. They are made of beautiful materials and the inside you'll the most sweet and beautiful drawings.
Akotee
Here you'll find a collection of nice bags (from brands like Pip Studio and Disaster Designs), racks for jewels, retro cans en thermos, rain boots and flamengo shoes.
Veggiedeli
An online vegan supermarket. A treat for vegans because they not only sell lots of meat substitutes but lots of other vegan producten as well: cheese, chocolate, truffels, egg, mayo, gravy, hungarian salad, cake, coffee creamer, you can find them all in a vegan version in this shop. I have never been a vegan but since I having more migraines whenever I consume milk products I am very curious to use these products.