Friday, 28th June, 2013
The Book of Mormon
tells the story of elder Price and elder Cunningham. They are teamed up to go on their mission together. They'll go to Uganda and try to convert as many Uganda people as they can. When they arrive their luggage is stolen by rebels from the ruling warlord of the village they are staying in. They are enthusiastically welcomed by the inhabitants of the village but they don't seem interested in the message the elders have to tell. This is confirmed when Price and Cunningham meet the other elders that are stationed in Uganda.
Although this isn't at all how elder Price thought it would be to go on his mission (he was more thinking along the lines of going to Orlando, Florida and having to convince citizens that would be more than happy to listen to the word of God and the mormon message) and he is somewhat annoyed by his mission partner Cunningham, he still is convinced that he can make a difference. He, elder Price, will do something great and extraordinary that will make every mormon proud of him. Or at least that is what Price is a firm believer of. Everything seems to change however when elder Cunningham begins to make up his own version of the mormon faith. All at once the villagers seem highly interested in this new religion, elder Price decides to convert the warlord and the mormon president is visiting to congratulate the Ugandan mission.
The show I saw had Mark Anderson playing the role of elder McKinley (the leader of the group of mormons in Uganda). He understudies this role but it isn't mentioned on the official website. This surprised me for I found his performance exceptional. I found the comical talent of Mark Anderson wonderfully brilliant. But besides laughing a lot during 'Turn it off' (which is primarily sung by McKinley) I also noticed how exceptionally good the cast actually is. Both singing and dancing were of a really high standard. This song is performed by the white, male part of the ensemble. Although the rest of the cast is really good as well, don't misunderstand me. But it is rare to see a faultless white male all singing, all dancing ensemble. It is never seen in The Netherlands and it's rare on the West-End. The Book of Mormon, although first and foremost a comical show, does it right.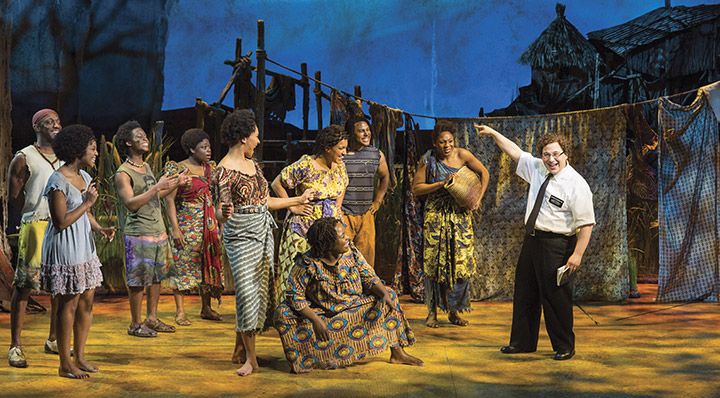 The villagers and elder Price
via
Obviously this musical does make fun of mormons. But besides making very clear that mormons are highly naive it isn't directly offensive towards mormons (although the show of course doesn't take any mormon values in consideration. The makers of this musical obviously believe that being gay is totally natural, they don't have any problem with cursing and I don't think that 'fuck you God' is a sentence that's uttered by mormons either) It's often been said that The Book of Mormon is not a musical for the easily offended. This is very true. I myself love series like Family Guy and American Dad, but that isn't for everyone. You'll at least need to be able to cope with humor at your own expense. The Book of Mormon being a musical, it makes fun of musicals in general and also includes references other musicals. There is a very obvious reference to The Lion King, but a more subtle one is pointed at The Sound of music. It also generalizes gay men. Isn't particularly empathetic towards the poverty, warlords or AIDS problems in Africa. It states that every westerner basically doesn't have the right to complain about anything. Every country that is named is summarized by two very stereotypical words and Orlando really hasn't anything more to offer than Sea World and Disney World. I loved it all. This show is filled with so many jokes it will probably be at the expense of every single audience member.
When I first heard about The Book of Mormon I expected the show to be comparable to Avenue Q. This is the only show I saw more that once on West-End, because I think it's the kind of show that can persuade non-theatre goers to go to the theatre more often. Avenue Q advertised itself as 'a new breed of musical'. That is why The Book of Mormon didn't get a standing ovation (although the crowd did love it, but they only showed it by applauding, whistling and lots of laughter) where as Avenue Q always ended with one. The kind of humor that is used in both Avenue Q and The Book of Mormon was really new for musical theatre when Avenue Q hit the stage. But with Avenue Q already existing it isn't new anymore in The Book of Mormon. It is my opinion however that The Book of Mormon is an amazingly funny night out and just like Avenue Q it has the power to persuade non-theatre goers to become theatre-lovers once they've seen The Book of Mormon.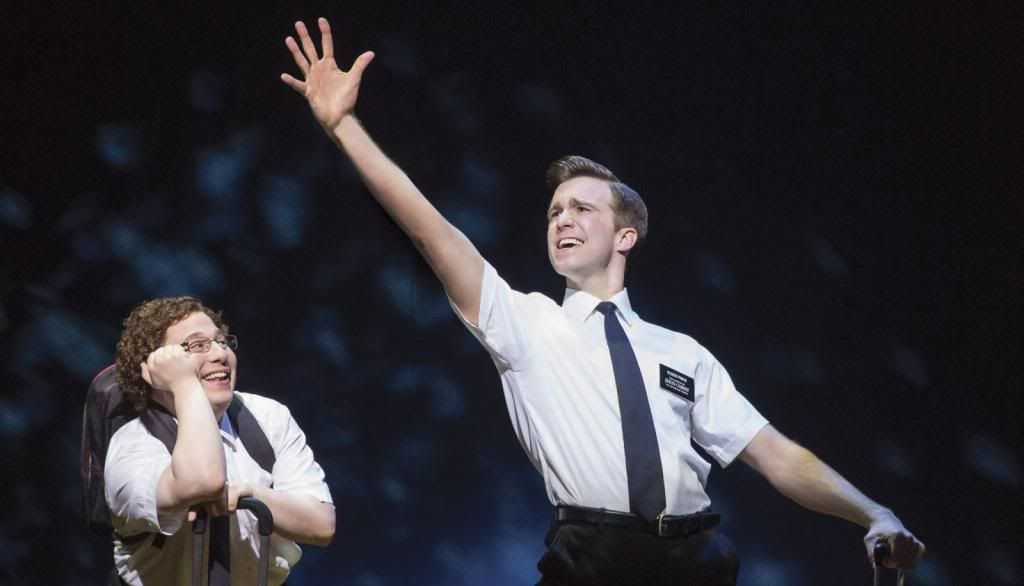 Elder Cunningham (played by Jared Gertner) and elder Price (played by Gavin Creel)
via
The Book of Mormon can be seen at The Prince of Wales Theatre in London. At the moment tickets do sell out rather quickly. Right now, shows in late August only have tickets available in the highest price range (£127 and £74,50). Other price ranges are £49,50 and £39,50. If you want these tickets you'll have to book some time in advance. (For example I booked my June 7th tickets in the beginning of January.) Another option is to wait in line at the box office of the theatre. There you can buy return tickets for the performance of that evening. This line is usually fairly long so if you want to make sure you'll get tickets I think you should be there sort of early. A third option is to enter in the daily ticket lottery. You can enter by filling in a form at the theatre from 5pm onwards. If you win you'll get tickets for the performance of that evening for just £20.