Time started: 15.21

Merrily We Roll Along is a musical by Stephen Sondheim (music and lyrics) and George Furth (book). The musical tells the story of the friendship between Frank, Charley and Mary but the story is told backwards. Beginning at the moment that Frank and Mary seem to loose each others friendship in the '80s and ending in 1957 at the moment that Frank and Charley meet Mary for the first time. Mary is a journalist/novelist, Frank is a composer and Charley is a lyricist. Together Frank and Charley write musicals. The reversed story-telling makes the tragedy of all the things that are lost (friendship, making art, relationships) more clear and painful.
Mark Umbers, Damian Humbley and Jenna Russell as Frank, Charley and Mary
Having seen this wonderful production of Merrily We Roll Along by the Menier Chocolate Factory, I can hardly imagine how it is possible that the first production of this musical could have been a flop. I had a magnificent time and the show contained everything that a great musical should entail. A beautiful score, a fascinating story, great performers, something to think about and most of all I was completely emerged in the world that the cast and crew created.
The night I saw the production Mary was played by understudy Amy Ellen Richardson. Joanna Woodward was playing the role of KT, which is usually played by Amy Ellen Richardson. As far as I know the production doesn't have any swings. so when a member of the cast is sick there will be one person less on stage. If it wasn't for the announcement at the entrance of the auditorium I wouldn't have noticed these cast changes at all.
A two years ago I saw the Menier Chocolate Factory's perfect production of
Road Show
. Now, after having seen a second production that was near to perfection I think I can never go to London again without paying a visit to the Menier Chocolate Factory. At least not without feeling some guilt towards the dramaturg in me.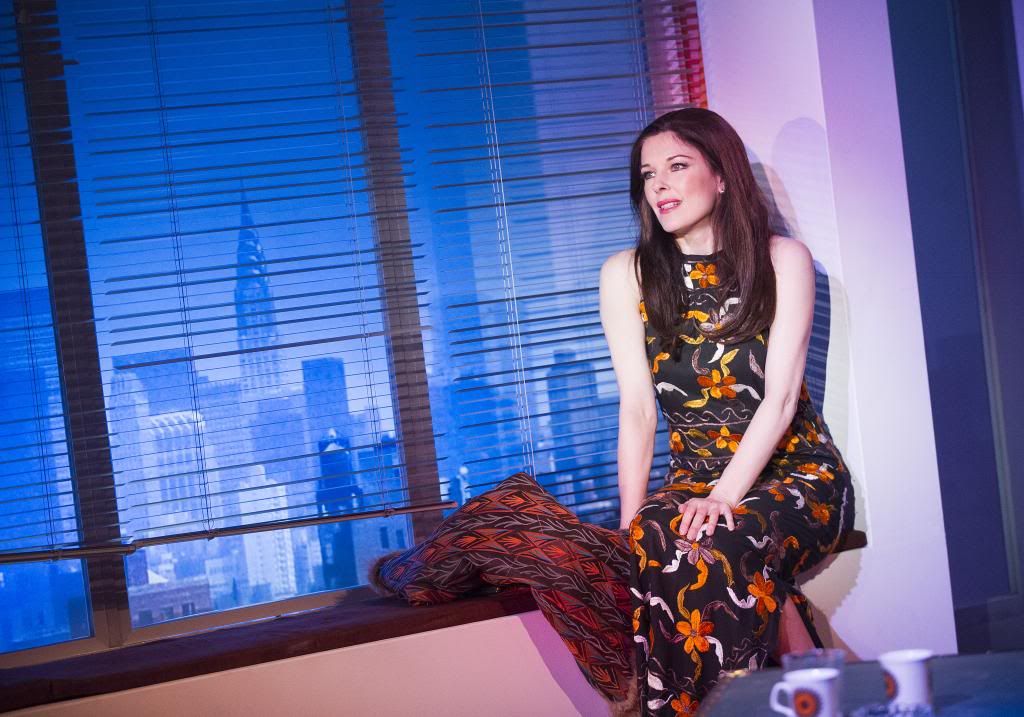 Josefina Gabriella as Gussie
Merrily We Roll Along will play until March 9th in the Menier Chocolate Factory. Unfortunately all performances are sold out. However you can sign up to be informed about a possible transfer to the West-End. You can sign up at the Menier Chocolate Factory
website
.
Edit: Merrily We Roll Along is tranfering to the West-End! Merrily We Roll Along will be at the Harold Pinter Theatre from April 23th till July 27th. Tickets are selling very fast, all shows are almost sold out.
Nederlands: Merrily We Roll Along is een musical van Stephen Sondheim en George Furth. In de musical volgen we het verloop van de vriendschap tussen Frank, Charley en Mary. Dit verhaal krijgen we van achter naar voren te zien. Hierdoor begint de voorstelling met het einde van de vriendschap tussen Mary en Frank (in de jaren '80) en eindigt het waneer Mary voor het eerst Frank en Charley ontmoet (in 1957). Mary is schrijver (zowel van boeken als theater recensies als voor tijdschriften) Frank is componist en Charley schrijft liedteksten. Frank en Charley schrijven samen musicals. Door het van achter naar voor vertellen van het verhaal wordt het nog pijnlijker en duidelijker wat de personages gaandeweg hun leven zijn verloren.
Nu ik deze voorstelling van Merrily We Roll Along heb gezien kan ik me bijna niet voorstellen dat de eerste productie van deze musical ooit een flop is geweest. Ik heb een fantastische avond gehad en de voorstelling heeft alle elementen die een goede musical in zich moet hebben. Prachtige muziek, een goed verhaal, fantastische performers, iets om over na te denken en boven alles de kwaliteit om de toeschouwer mee te sleuren in de voorstelling.
De avond dat ik de voorstelling zag werd Mary gespeeld door understudy Amy Ellen Richardson. Joanna Woodward speelde KT, de rol die normaal door Amy Ellen Richardson wordt gespeeld. Voor zover ik weet heeft de productie geen swings en dat betekend dat wanneer één van de spelers uit valt er een persoon minder op het toneel staat. Als er geen papiertje naast de ingang van het theater had gehangen om aan te geven dat 2 rollen door iemand anders werden gespeeld die avond dan had ik het waarschijnlijk niet eens opgemerkt.
Twee jaar geleden zag ik

Road Show

in de Menier Chocolate Factory. Nu ik wederom een vrijwel perfecte voorstelling heb gezien in de Menier Chocolate Factory denk dat ik nooit meer naar London zal gaan zonder een bezoek te brengen aan dit fantastische theater.
Mary, Beth (Clare Foster), Frank en Charley
Merrily we roll along is nog tot 9 maart te zien in de Menier Chocolate Factory. Helaas zijn alle voorstellingen al uitverkocht maar je kunt wel op hun

website

aangeven dat je op de hoogte wil worden gehouden over een eventuele transfer naar West-End.
Time ended: 17.49
Edit: De transfer naar West-End gaat door! Merrilly We Roll Along is te zien in het Harold Pinter Theater van 23 april tot 27 juli. De kaartverkoop gaat wel erg hard, voor alle voorstellingen zijn nog maar enkele kaartjes te koop.
Photography/Scènefotografie: Tristram Kenton